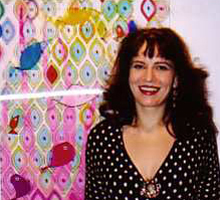 Photo by Nancy Smith of artloversnewyork.com - Insider Report: NYC Art World.
http://www.artloversnewyork.com
Photo of Sara Cook of Depthography taken at a Depthography Art Opening Event in Chelsea, NYC at The Proposition Gallery.

- Click button to go back to Depthography Press Page.
If you would like to join our email mailing list for upcoming 3d events, please email your request to info@depthography.com.
Click here for the Robert Munn bio.
Click here for the Sara Cook bio.