3-D Animating postcards of Coney Island. These limited edition lenticular postcards contain 20 frames of animation.
First card of the series: "Cyclone Rollercoaster" which depicts this world famous ride in action with the Coney Island USA face zooming.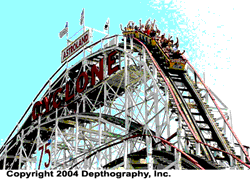 Lenticular photography by Robert Munn, graphics by Sara Cook.
Second card of the series: "Zooming Funny Face" Which shows the George C. Tilyou face zooming out in 3-D in front of a life preserver with the Coney Island USA logo on it. There is also decorative gold rope with tassles against a red background for a truly nautical, truly Coney feel to this image.
Layout, 3-D & animation by Robert Munn, Sara Cook, M. Henry Jones, & Gary Pirro.
Proceeds of these postcards will benefit Coney Island USA (Coney Island's Hystorical Society). Help preserve the heritage of Coney Island Amusement Park by ordering on line at http://www.coneyisland.com.
Please feel free to contact Depthography directly at
tel # 1-646-671-2882, or e-mail us at info@depthography.com for more information.