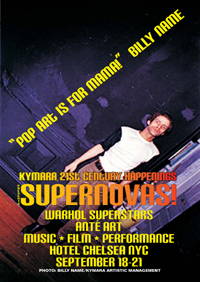 21st CENTURY HAPPENINGS Presents SUPERNOVAS!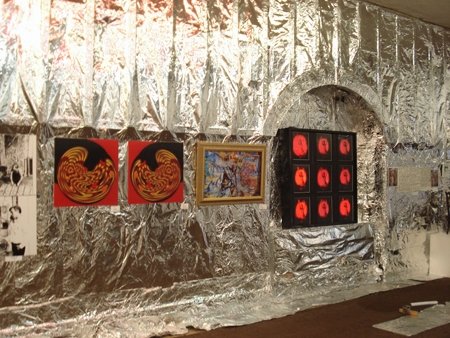 Warhol Superstars & the Ante` Art Movement
Billy Name, Kymara Lecchi-Lonergan, Milo Rock, Robert Munn, Sara Cook, & Miestorm Pierre Q. Serpent, & Ricky Longo- Burrows magically transformed the Art Space at The Historic CHELSEA HOTEL, 222 WEST 23 RD STREET, NYC...into a Silverized Celebration of The Warhol Superstars & The Ante` Art Movement!!!!!
food & DRINK was presented by CAFE BOCCA & HUDSON VALLEY'S FINEST FOOD & BEVERAGE PRODUCERS!
music! WHORE'S MASCARA (Billy Name won't let them escape!) INTRODUCING.. The Historic IXION BURLESQUE...ALBERT GARZON'S FABULOUS CABARET SHOW!!!!!
Featuring Ixion burlesquers CICI JAMES (a/k/a Sophia Berlin), MADEMOISELLE LENA (a/k/a Venus Velour) & of course Albert Garzon, Chris Grier, Pheobe Legere, Uke Jackson & poetry by Ronnie Norpel & Robert Heide, etc..
ART! FILM! PERFORMANCE!
FEATURING THE WARHOL SUPERSTARS, BILLY NAME (godfather of Ante` Art) ULTRA VIOLET, MARY WORONOV, ALLAN MIDGETTE, ROBERT HEIDE, BIBBE HANSEN, LOUIS WALDON, IVY NICHOLSON, WALTER STEDING, PENNY ARCADE...
also featuring...OUR WONDERFUL FRIEND DAVID DALTON!!!!!NEW WORKS BY ANTE` ARTISTS...ROBERT MUNN & SARA COOK, THE INCOMPARABLE JAYNE COUNTY, RICK LONGO-BURROWS, CHRISTOPHE von HOHENBERG, COCO DALTON, PHILIPPE LAURENT, JOHN SCRIBNER, ROBERT LAMBERT, MIESTORM PIERRE Q. SERPENT, FERNANDO CARPANEDA & more!!!!!!"SPECIAL FILM SCREENING OF IVY NICHOLSON'S FILM
WE WERE PLEASED TO HAVE PLANET GROUP ENTERTAINMENT AS A SPONSOR FOR THIS EVENT ! "Friday September 18th from 7pm to midnight... Through SUNDAY September 20, 2009

- Click button to go back to The Depthography Art Shows Links Page.
If you would like to join our email mailing list for upcoming 3d events, please email your request to info@depthography.com.
Click here for the Robert Munn bio.
Click here for the Sara Cook bio.